Contributor
A Contributor is a Bootstrapper who has come to understand the organization, has identified a generalized need of some subset of Bootstrappers, and is willing to contribute to the organization in order to provide some resource that fulfills this need.
Here is the list of Bootstrap Contributors, past and present.
Requirements
Has been an Active Participant of the community for 3 months or more
Typical Participation: Leading a Subgroup
How Does it Work?
Active Participant thinks up an idea or feels they can solve an expressed community need, with might include their product/service
Active Participant gets in touch with the appropriate lead
Together they discuss, negotiate and agree on the new initiative
Contributor --> Active Participant/Participant
There are many situations, often related to the increasing needs of their venture, where a Contributor will be unable to continue with the Commitment they made. This happens often and is part of the topsy-turvy reality of being a bootstrapper! When it does, the Contributor must pro-actively let Bootstrap know so that they can relieve themselves of the commitment and allow appropriate course corrections to be made.
All Contributions are recorded by name/time on the Contributors page and will be preserved by Bootstrap so Contributors can always refer to their involvement with Bootstrap.
Responsibilities
Blog about their initiatives on the Bootstrap Blog.
Get feedback from the participants. This helps to serve the growth of the Contributor and the growth of the community by ascertaining their needs and how well those are met.
Openly communicate amongst other Contributors and support one another as an advisory council for their initiatives.
Set appropriate time frames for commitments
Record the BootKarma transactions for their activities
Manage commitments with responsibility and professionalism toward the Bootstrap Community.
Agreements
We use the agreement templates created by Rick Friedman to structure Contributions appropriately. The bootstrapper contributes their knowledge and resources, but maintains ownership of their brand, product, etc. Bootstrap retains control over the Bootstrap Initiative and "Boot-service/product."
Decision Making Process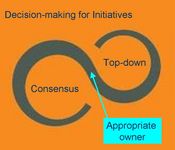 Bootstrap initiative teams with more than one contributor are neither consensus-driven nor autocratic. Consensus-driven teams move too slowly and don't allow for effective bootstrapping. On the other hand, the lead doesn't get to arbitrarily enforce their will either. Instead, we take an approach that combines the two. The "appropriate owner" of a particular aspect of a project makes the final call. The other contributors only act as advisors and sources of input. It is therefore important for the lead to acknowledge the appropriate owners at the beginning and as they need to be defined as the project unfolds.
Community Systems
Previous/Next