Map
The Bootstrap Network introduces an innovative framework for building a venture for long-term success. While bootstrapping itself is timeless, the Bootstrap Community strives to articulate and propagate the principles and stages of Bootstrapping. Synthesized by Bijoy Goswami with contributions from Bootstrap Austin members including Bruce Krysiak, Darius Mahdjoubi, Dave Wolpert, Jonathan McCoy, Jason Myers, Alex Cavalli, Marcy Hoen and Nancy Schill. Bootstrapping is the third way of entrepreneurship, distinct, yet drawing from both the cookie-cutter and funding-driven methods.
Bootstrapping is a distinct method of entrepreneurial activity, separate from the funding-driven and cookie-cutter paths. This video series describes the Bootstrap Stages. The following history of Apple Computer shows the stages and key actions. Journey Entrepreneurship is most aligned with the bootstrap path, but can also occur with the other paths.
Bootstrap's overarching principle is: Right Action Right Time. Each stage has a corresponding action and principle, noted on the map. For example, the key action in the you stage is Discover and the key principle is "know thyself." Here are links to blog posts on the stages: youPlusU, Ideation, Valley of Death, Growth and Rebootstrap.
The community articulates the stages of a venture with the Bootstrap Map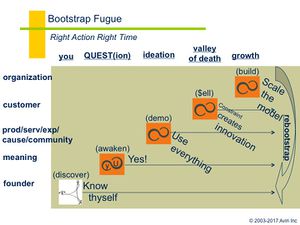 Notice the similarity to a fugue
Resources