Ideation Subgroup
For bootstrappers in the Ideation stage of their bootstrap venture. The Bootstrap Map explains all the stages, including YouPlusU and Valley of Death, which precede and follow Ideation.
Ideation Yahoo Discussion Forum - please join to get meeting updates and connect with other Austin Ideation Bootstrappers. If you are not a fulltime bootstrapper, you must be on this yahoo group to get general bootstrap meetings and updates.
Leads
Meetings
2010
The Ideation Subgroup no longer meets separately. Like most other subgroups, we are now joining the Bootstrap Austin community in the Monthly Meeting held on the second Monday of the month. We are also hosting the February and June meetings.
In addition, the Ideation Subgroup facilitates the creation of Ideation Boot Boards. Contact servicewizard AT yahoo.com if you're interested.
2009
6:30 @ TBD location, 3rd Monday of each month
Tentative Schedule:
January 19 - update on current member plans
February 16 - Nancy Schill hosts session on building the entrepreneur's network
March 23 - Suzy Drapkin hosts "What Kind of Entrepreneur Are You?"
April 20 - Discussion: Applying principles of Bootstrap to your business
May 18 - Marketing Research with TJ Costello
June 15 - Michael Drapkin hosts discussion on "Think Like an Entrepreneur"
July 20 - "Discuss your business plan and get advice" hosted by Subbu Rama, a member of the Ideation subgroup
August 17 - Eliminate your barriers, hosted by a serial entrepreneur (we'll send a survey to post your biggest barriers prior to the discussion)
September 21 - How can we help? Discussion
October 26 - Bootstrap Demo Session
November 16 - You + You(Quest) - presented by Bijoy at Waterloo Ice House, 6:30PM, 38th and Lamar
2008
Dec 15 - Gary Hoover reviews ideas
2007
Feb 19 - intro meeting to kick off the year
March 19 - Evite - Gregg Fraley, author Jack's Notebook teaches CPS
Apr 16 - view and discuss the Ideation section of the Bootstrap Bootcamp
May 21 - play a product Ideation game and view and discuss the Ideation section of the Bootstrap Bootcamp
Jun 18 - Bootstrap Bootcamp Evite
Jul 16 - Maven, Relater, Evangelist. Evite
Aug 20 - Molecular Thinking demo by fellow Ideator, Edward Cruz - tool for Ideators
Sep 17 - hands-on discussion of individual Ideators, helping with next steps
Oct 15 - Physics of Business, Alex Cavalli, 6:30, Opal Divine's Downtown
Nov 19
Dec 17
2006
Diane Carroll of the Maverick Group gave a talk titled "Top 5 strategies entrepreneurs can use to wrap their business around their lives" Evite
Personality
Bootstrap Bootcamp: A 1-day course preparing entrepreneurs, intrapreneuers and innovators in any field
Mission & Charter
Ideation Group Mission Statement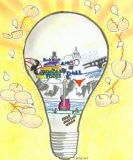 To provide
Ideation
bootstrappers an interactive forum with
Valley of Death
survivors so that they may develop awareness of an array of entrepreneurial skills and devices that allowed exciting new companies, services, and technologies to beat the odds and compete in the marketplace with a minimum of capital infusion.
Meetings themes will include (among others):
Salient differences and benefits of bootstrapped and venture financed companies
What to expect in the Valley of Death and preparing yourself to survive it
The Supreme importance of Faith in "yourself and your cause"
The use of Myers/Briggs psychological to determine whether you and your team have the psyche for the job ahead
Group discussions and answers to member defined problems
While meetings will occasionally include special guest speakers, the goal for the Ideation Group is to function as a support group that encourages and assists entrepreneurs in-the-making with experienced counsel and opportunities to seek out mentors from a pool of individuals who have been there and done that!
Related Initiatives
Resources